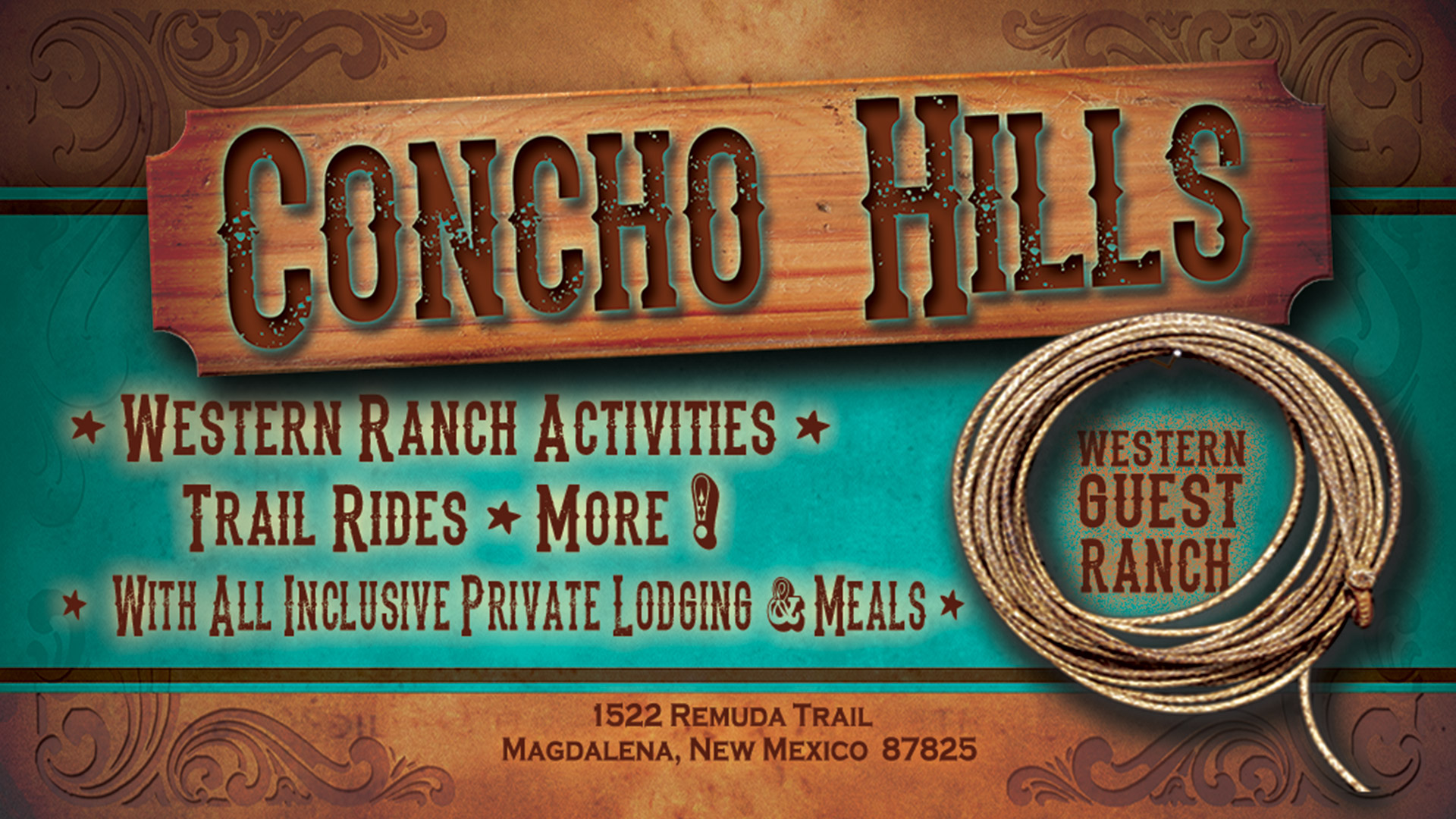 Concho Hills Guest Ranch:  The perfect blend of western hospitality, location, and history.
The owner's love for the southwest and American western heritage is obvious in every detail at Concho Hills Guest Ranch.  They developed the ranch to share the western way of life with their exclusive guests.  From the adobe main ranch house with viga and latias ceilings, to the southwest style guests quarters one is immersed in western culture.   Because of the moderate climate, Concho Hills is open all year. Come stay for a few days or weeks and experience the true west lifestyle and participate in our horseback riding and ranch activities.  You will arrive as guests and, above all, leave as family.
A Note from the Owners:
A friend of ours asked: "What is your guest ranch about? Getting away from crazy city life???  His question made us ponder about what we do at Concho Hills Guest Ranch and why.  Then we remembered what one of our guests said; which we consider to be one of our greatest complements.  It was after dinner when a family was sitting around the dining table with us, trying to tie a buckaroo knot in their wild rags. We were all having a good time, laughing and teasing one another after each failed attempt.  And there was the one who "got it" attempting to show the rest of the family the way to success.  The father said: "This is worth the whole trip. Our family never takes the time to sit around the table and talk after dinner."
So, remembering that, we realized what we are about at Concho Hills:
Nostalgia: that good feeling you get when you experience someone cooking all day so someone else can enjoy the comfort and flavor of a good meal cooked with care and attention to detail.
Pride in your work:  We're about going to bed tired after a hard day of activities and feeling good about a job well done.
Struggle:  How struggle is important to develop courage and confidence, from riding a horse to facing a herd of cattle.
Nature:  We're about taking the time to experience and enjoy the Creator's nature, instead of rushing by it.
Friends and Family: sharing others' experiences and having a deeper bond with our families, and each other.
Respect: especially for our families and ancestors who really struggled to settle this land, hence to give their children an opportunity to develop a better life for their families.
Some things aren't for sale:  Most of all, we are about realizing that the better life is not about "the glittering lure of things".
As my ranch hand said: "We're about providing an experience as close to the true west life and the code as possible."
At Concho Hills Guest Ranch, there is nothing new under the sun…
And that's the way we like it!
Ranching:
Ranching isn't just an occupation, rather, it's our western heritage.  Therefore, ranching is our western way of life based on tradition. Most of all, ranching is an institute where change is carefully examined, and its value tested, before change is accepted.  For that reason, Don Edwards, in the song For Those that Lean to Lonesome, elequotely sung: " It's all about horses, the cattle, and men, about the country, the work, and the pride…" At our guest ranch (or dude ranch), you can be our guest during your vacation and experience this western heritage with us!  Check out our history page here to learn more about our area's country, events, and people.  As a result, you will understand why Concho Hills Guest Ranch was voted Best of the West Heritage Guest Ranch by True West Magazine's readers.
Location:
Concho Hills is nestled in the foothills of the San Mateo Mountains in New Mexico. We're only 136 miles southwest from the Albuquerque Airport.  Because of our location and altitude, nature provides the ranch with moderate temperatures  and allows operation ALL YEAR!    We are located in the heart of New Mexico's ranch land, along the historic Magdalena Stock Driveway, near the trail's end at Magdalena.  This is were the Wild West seen in western movies really existed!  See The Ranch page for details …
Lodging:
Our dude ranch accommodations are attractive and very comfortable.  The main, hacienda style, adobe ranch house is always open and where we gather to visit, eat, and relax.  The private guest rooms are a stone's throw away.  The guests rooms have modern conveniences: queen or twin beds, tiled bathrooms, and independent climate control.  You don't get lost in the crowd at Concho Hills!  That's because our seven guest rooms provides us with a maximum occupancy of 14 people.  This ensures you will receive personal attention from our award winning hosts.  Our reviews tell us we are on the right trail!  Take a look on our Lodging page for accommodation details!
Activities:
Your vacation activities at our dude ranch will depend upon your desires and abilities.  Our guest's interests vary from those who wish to participate and learn about all aspects of western ranching, to those who just want to relax.  Our dude ranch offers a variety of western ranch activities, both in and out of the saddle.  From beginner horseback riders to rodeo champions, young or simply young at heart,  there is something to entertain you at Concho Hills.   We'll do our best to ensure everyone has a fun, entertaining, and rewarding stay.   Visit the Activities page to see examples what you will enjoy on your vacation!
Fantastic Food!
In their reviews, our guests have raved about our delicious food and settings.  Abundant and hearty, our meals are served ranch family style around our large dining tables.  Hence be prepared to pass the bread!  Our varied menus focus on western traditional foods of the area, from grilled steaks to New Mexico fare.  Yes, cowboys have a sweet tooth, so you will get desserts and snacks as well.  Visit our Meals page and let your mouth water…
Dude Ranch Award Winner in three Categories for 2017/2018, 2016/2017, and 2015:
Best Winter Ranch
Best Horseback Riding
Favorite Hosts
We are so proud to win the Signature Ranch Award in three categories AGAIN!  Thanks to all of our guests and friends for voting for us.  It is an honor to be voted into the top from over 200 esteemed Guest Ranches!  It is most cherished as it is the voters who put us in this position.
2018 True West Magazine's Best of the West Reader's Choice Award in two Categories:
Best Heritage Guest Ranch
Best Heritage Bed and Breakfast
Since 1953, True West Magazine has taken readers on a voyage of the American West frontier.  Every year True West has honored the those who have dedicated themselves to preserving history and promoting travel to experience the West first hand.  In the magazine's words:
"Everyone honored this year has played an important role in keeping our Old West history alive, and we thank you for supporting each one's efforts."
We are humbled and truly grateful that the magazine's readers and our guests have voted us to be the "Best of the West" in 2018
Rave Reviews:
" If you are considering a guest ranch experience, Concho Hills is THE place to go. "
"Outstanding! This is the BEST vacation we have ever had!"
"There are not enough words to explain how much I loved Concho Hills Ranch and Tim and Marilyn."
These are just a few of the comments our guests have said about their vacation at our guest ranch.  In the western way, our reputation means a lot to us.  The reviews have also made us very, very thankful to have met so many wonderful people.  The reviews we have received from our guests make us feel proud, and taking pride in one's work is part of the cowboy way.  Another cowboy ethic is: "when you make a promise, keep it."   We promise to do our best to make your western ranch vacation a five star experience.  Click on the Trip Advisor icon and read more about what our guests have had to say about Concho Hills and its staff…
Time to Book!
So this vacation, enjoy western ranching and it's many and varied activities that will allow you to view, enjoy, and photograph the grandeur, beauty, and wildlife of the great Southwest.  Ride horses, tour the areas, enjoy our family atmosphere, but most importantly enjoy yourself.
Need some tips on what to bring?  See our page Things to Bring for ideas as to what to pack in your bedroll.
Our rates are reasonable and all-inclusive for most all activities, so you can enjoy your vacation and not worry about accounting or how much fun your going to have.  See our Rates page for details.  Also look at our Specials page for special events and celebrations, sometimes including reduced rates.
We accept cash, check and all major credit cards!
We're open all year, so come anytime, meet new friends, and enjoy Western Living at it's best and finest.
Become our Guests! Call us:
(575) 772-5757